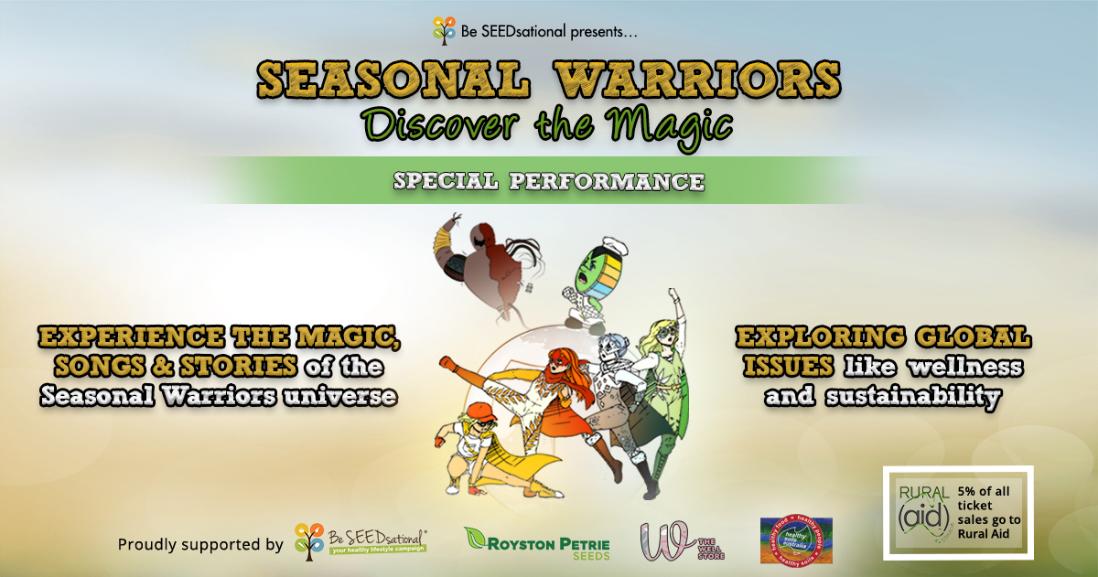 Seasonal Warriors - Discover The Magic Musical
THE HEALTHY MOVEMENT IS IN! WITH THE 'SEASONAL WARRIORS - DISCOVER THE MAGIC' PERFORMANCES WERWE FEATURED AT ARA DARLING QUARTER THEATRE, TERRACE 3, 1 - 25 HARBOUR ST, SYDNEY.
Thank you for this wonderful production!
This production was exceptional from the before show entertainment until the photo opportunity after the show. It was an excellent way to teach important life and environmental messages through a fun and engaging medium. I took my 4 kids along who range in age from 4 - 19 years. Two of my children have autism with one of my sons having significant functional impacts. Despite these difficulties all of my children, myself and my mother who is in her mid 60s all had a blast and learnt heaps.
Thanks so much!
Trina
Thanks so much for your continuing efforts in support of Rural Aid. Your generosity is sincerely appreciated and continues to make a difference.
This year in addition to the disaster support Rural Aid has provided, the charity has expanded its mental wellbeing team by appointing 10 additional counsellors.
Droughts, floods and mice plagues come and go but their legacy is a nation of producers made more fragile mentally and increasingly requiring the support of a farmer specific wellbeing service like that offered by Rural Aid.
The work that Rural Aid does would not be possible without the generous support of people like yourself.
John Warlters | CEO
Oz Comic-Con During the 5th and 6th of December, Yummie was fortunate enough to be invited to Oz Comic-Con, one of the biggest comic and pop culture conventions in Australia and help celebrate the values of healthy eating and sustainability, through song, dance and most importantly, fun! Yummie had an out of this world time with everyone who came around to our stall. Over the course of the day, there was a lot of waving, dancing and exploring many of the other booths; and of course, many photos taken with some seed-sational costumes.
Yummie was also lucky enough to have run a workshop with the help of the amazing and super talented seasonal warriors, bringing the magic and fun of living seasonably to the stage! Together with a crowd of excited children, they played a plethora of fun games, partook in some fun activities, and joined in a bunch of dances. Yummie was incredibly excited to give the kids plenty of gifts, such as sunflower seeds, generously gifted by Rowston Petrie seeds and an activity sheet that could fold into a hat. The seasonal warriors also made sure to tie in all the fun to the importance of seasonal eating and living and how simple and fun it can be to live seasonably.



Move Seasonably - Yummy Times.mp3
What Can I Grow - Yummy Times.mp3
Yummie's Vision - Yummy Times.mp3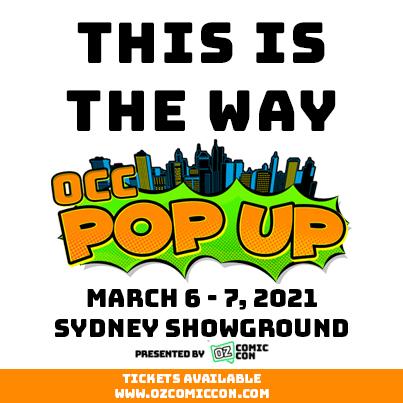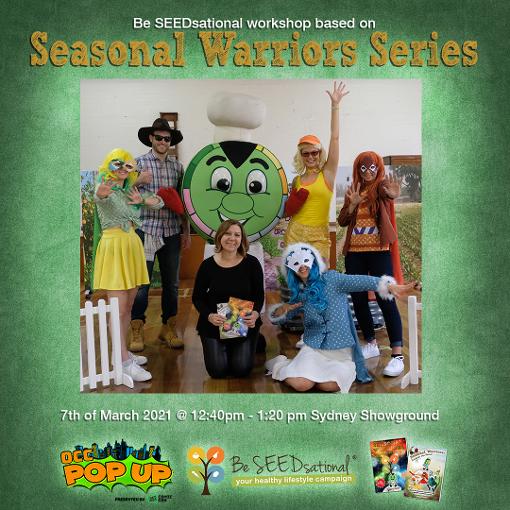 book now: https://ozcomiccon.com/occ-pop-up-sydney/
Art, music, cool moves for wellbeing and sustainability!
Visit our art stall #15 on both dates! You can be very lucky to meet Yummie too! Sunflower seeds will be given away to our visitors
(donated by Royston Petrie Seeds Pty Ltd)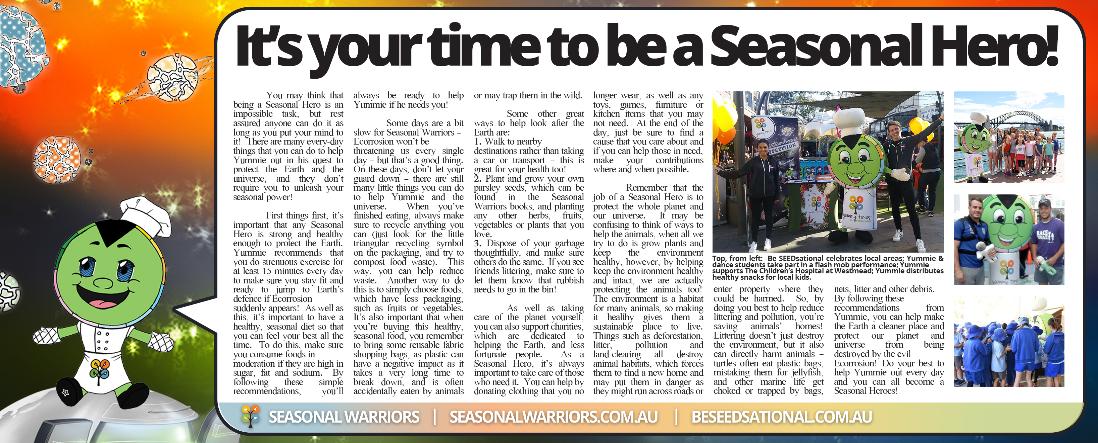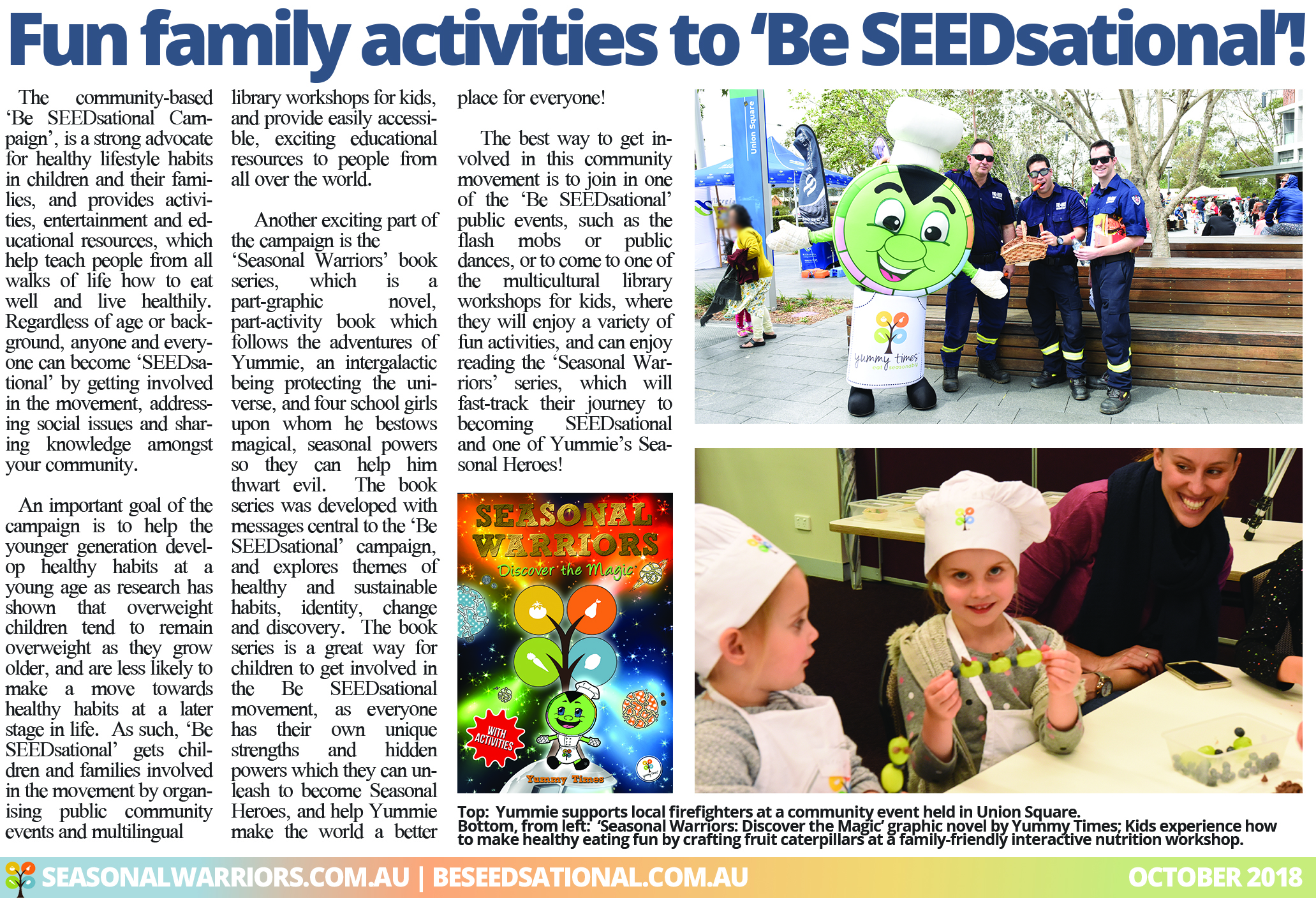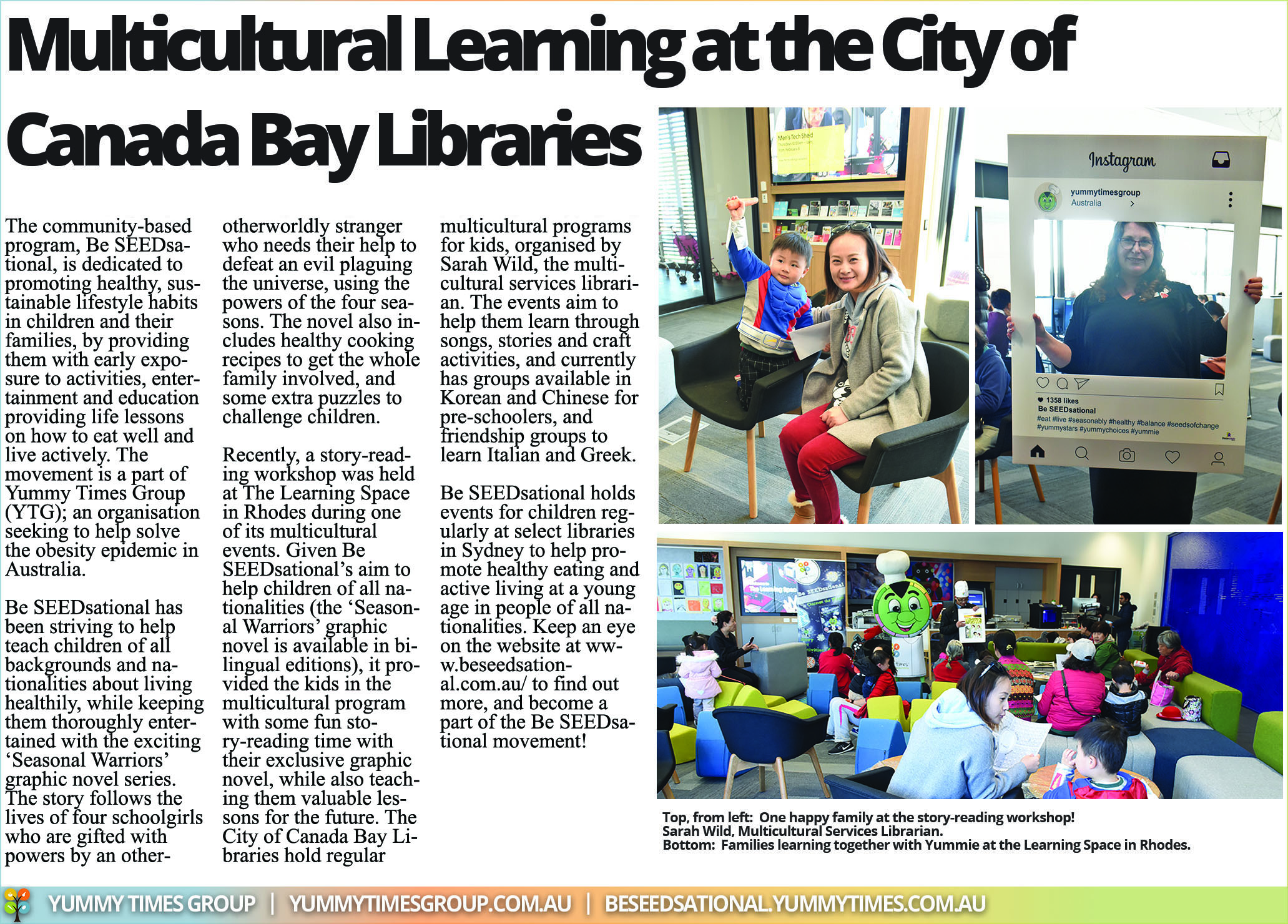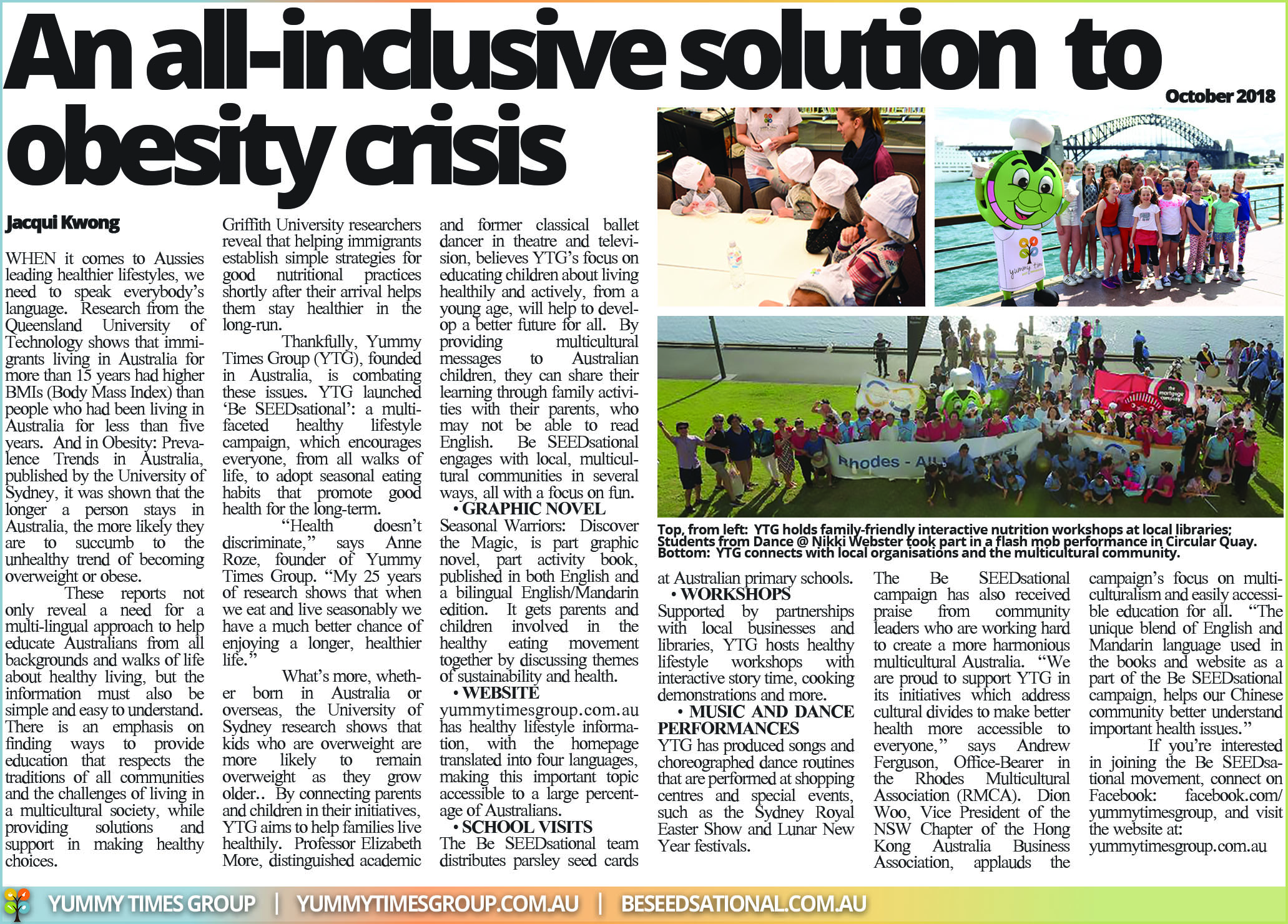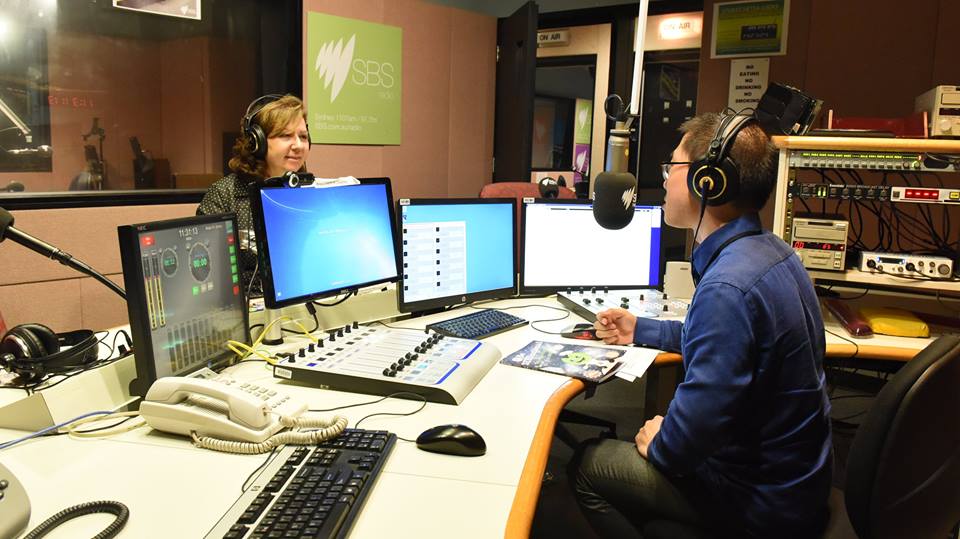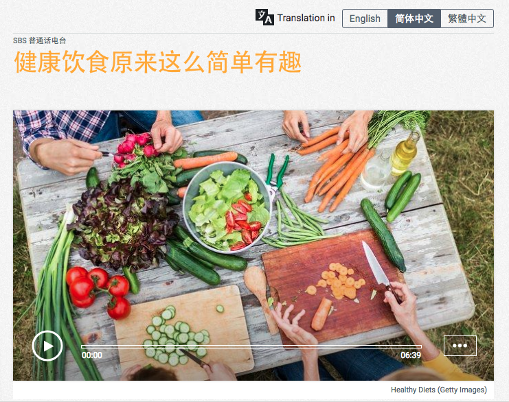 Discover the Magic on SBS Mandarin
The team visited the SBS Radio studios to talk about our book series, what it means to Be SEEDsational, and how we're encouraging kids and their parents to be involved in the healthy eating movement together.
During the interview, we share insights and tips for staying healthy, even throughout life's busiest times! We're excited to keep sharing healthy, educational resources through our world-first, multilingual healthy lifestyle campaign, and we are excited to welcome those who support our multicultural and educational values, regardless of your background.
Check out a snippet of our SBS Mandarin coverage here:
https://www.sbs.com.au/yourlanguage/mandarin/zh-hans/audiotrack/cheapest-way-could-be-healthest-way?language=zh-hans
(Don't worry if you don't speak Mandarin, you can translate the page to a language that suits you!)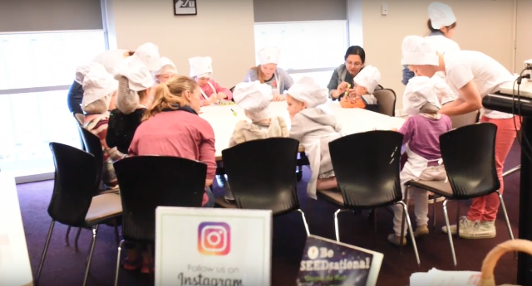 Eat and live seasonably!
These workshops have been designed to engage and motivate participants, complementing the Early Years Learning Framework for Australia and the Framework for School Age Care in Australia. Featuring our mascot, Yummie, dancing, sing-alongs, and hands-on, real-world activities, the 'Be SEEDsational Experience' gives kids early exposure and involvement in seasonal and balanced lifestyles, helping them to develop skills and knowledge about food, nutrition, movement, emotional well-being and sustainability.
Move seasonably with our song and dance routines!
Also held at our Be SEEDsational workshops are song and dance routines which incorporate many of our original songs, all including key messages of eating, living and moving seasonably and healthily to encourage long-term well-being! A key hit is the "Move Seasonably" song, which the Yummy Times team has performed publicly as well, and is all about moving seasonably to help foster physical and mental health! Kids can sing and dance to these songs alongside our educators and lovable mascot, Yummie!
FREE Kids Story Time & Nutrition Workshop in Chatswood
Celebrate Chinese New Year with a special bilingual story time and FREE workshop for 5-12 year olds at Chatswood Library.
Kids will enjoy a fun story time with role plays, craft as well as activities teaching them how to plant seeds to grow their own herbs and vegetables and learn some healthy habits for life!
Presented in English and Mandarin.
Limited places – bookings essential.
Contact: Willoughby City Library on 9777 7900 or email [email protected]
Eat and live seasonably! Join our educational fun workshops held as part of the Be SEEDsational campaign, based on the "Seasonal Warriors: Discover the Magic" children's graphical novel supported by businesses across a range of industries, to address both local health outcomes for Australians, and global issues such as obesity, food availability, sustainability, and food wastage.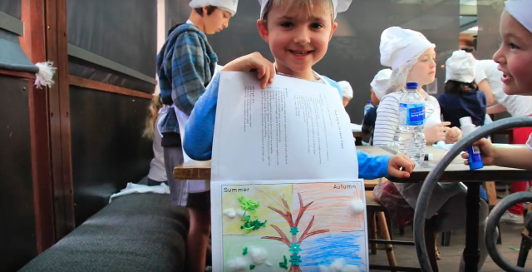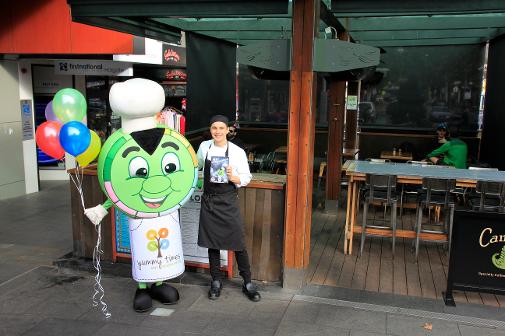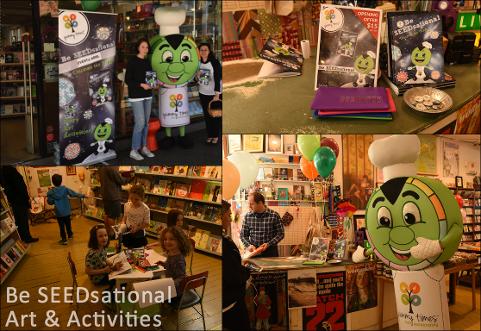 WATCH THIS SPACE FOR MORE INTERACTIVE EVENTS FOR KIDS AND FAMILIES
AT YOUR LOCAL SHOPPING CENTRE AND LIBRARY COMING SOON!
meet Our SEEDsational Winners...
Congratulations to Lane Cove West Public School – one of the major prize winners in our most recent competition! More and more schools are becoming SEEDsational and winning awesome prizes, including copies of our 'Be SEEDsational: Discover the Magic' book and its specially-designed corresponding teacher's resources, and massive Dymocks vouchers to top up their library collection..If you want your school to be SEEDsational, keep an eye out for our next local event!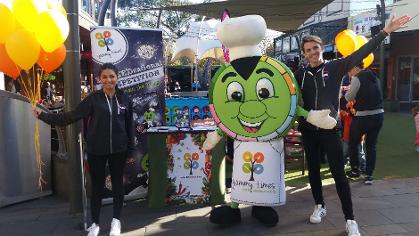 Yummie & the KIIS 106.5FM team spreaD joy, knowledge, FUN & fresh fruit & VEGETABLES in Lane Cove Plaza.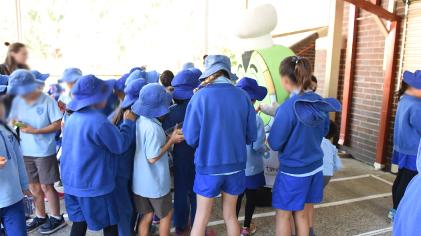 Yummie shares carrots & Spreads the seeds of health & wellbeing at local primary Schools.
Lane Cove is OFFICIALLY SEEDsational!
In mid-2017, Yummy Times Group ran our 'Be SEEDsational' campaign in Lane Cove. Our mascot, Yummie, visited several local primary schools to donate fresh produce and copies of our 'Be SEEDsational: Discover the Magic' book, and talk to kids about the importance of healthy eating. We also reviewed a popular local restaurant to communicate its healthiest options to the community, teamed up with Dymocks Lane Cove to promote our first book and run a competition supported by local sponsors.
We celebrated the final day of the competition in Lane Cove Plaza, partnering with the KIIS 106.5FM Street Team for fun activities and games including giant Connect Four, and Yummie danced along to our original music! We gave away recipes, books, carrots and 180 balloons. And of course, our competition came to a close.
We would like to say a big THANK YOU to everyone who participated in the campaign; from the Lane Cove business who promoted the competition and donated awesome prizes (Dymocks, McGrath, Lodge Tapas, Bakers Delight and About Life), to the local schools who partnered with us, and everyone who participated in our final day event, bought our book and entered our competition - thanks to you, Lane Cove is officially SEEDsational!
CONGRATULATIONS to all of the lucky winners. We hope you're enjoying your SEEDsational prize packs and making the most of what your community has to offer.
Healthy Living Through Dance, Songs & Education
Yummy Times Group collaborates with shopping centres, retailers, communities and talents to produce many different exciting events and performances. Educational and encouraging messages promoting healthy living and balanced lifestyles are the main focus, while winning prizes and special appearances from Yummie, the team mascot, make learning about seasonal eating habits memorable and fun for all age groups.
Song & Dance Performance at Strathfield Spring Festival: Move your body seasonably to our new song "Move Seasonably"!
A warm Spring day welcomed the Yummy Times team to this event allowing the team to meet the wonderful community and council from this suburb. The Yummy Times team performed their new song, 'Move Seasonably' which is all about encouraging children and families to move seasonably to keep their body and mind healthy, providing an entertaining choreographed dance with Yummy Times' mascot, Yummie. As well as this, Yummie was able to get a couple of 'selfies' with the children and some adults to brighten their day even more.
Yummy Times Groupat the
Sydney Royal Easter Show 2016
The annual Royal Easter Show held at Sydney Showground is always a highlight of the year, ever since the first show in 1823. A prestigious event that brings together agricultural themes, rural country vibes, and loads of amusement park fun, this two week long affair is always highly anticipated by everyone old and young.
This year, Yummy Times Group was honoured to be a part of this grand event, and was a special part of the Preview for Primary Schools on Wednesday 16 March 2016. Our adorable team mascot Yummie was delighted to meet the 700 primary school students that were lucky enough to get entry into the limited event. The students, teachers, and volunteers were all cheerfully greeted by Yummie and the team, and were even invited to sing-a-long to the 'Be SEEDsational: It's Your Time' with the mascot! The school children readily took up the challenge, and sang an admirable performance to their peers.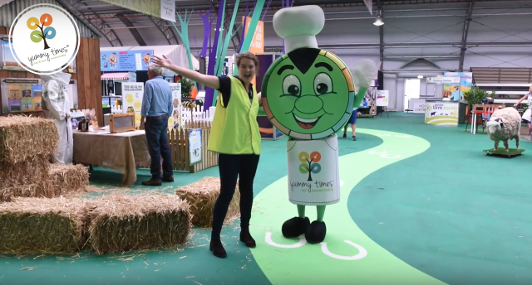 With a small stand for our book presentation, students were also given the opportunity to enter our 'Win-a-Book' competition. Yummy Times Group's newly published book, titled 'Be SEEDsational: Discover the Magic' is aimed to be an entertaining, yet educational tool to help growing children lead healthy lifestyles. It is the first volume in the series 'Be SEEDsational', a compelling tale of magical discoveries revolving around educational themes of sustainability, healthy eating and self-identity.
As part of the event, the students took part in hands-on activities and numerous exhibits to learn about various aspects of farming and food production, to support and raise awareness for healthy lifestyles and fresh produce. With such a beautiful and educational message, Yummy Times Group couldn't be a prouder contributor of the Sydney Royal Easter Show 2016. Yummy Times Group is proud to be a part of this exciting event together with the following exhibitors including Woolworths, Nestle Healthy Active Kids, AIS, Sydney Water and Ozharvest.
Be on a look out for more updates and details of the Easter Show 2016.
Yummy Times Group at the Riverside Organic Markets for world Soil Day 2015 (5 December)
Be SEEDsational Interactive Workshop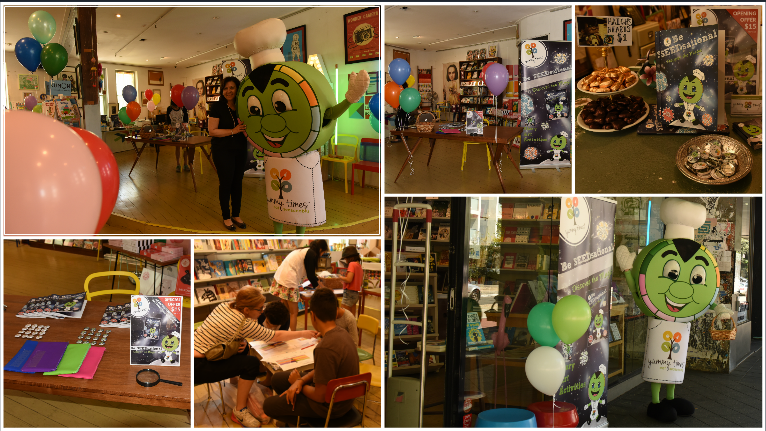 Yummy Times once again brought kids' imagination into a whole new level at the Be SEEDsational Interactive Kids Workshop at Ariel Booksellers. On 25 October 2015, Yummy Times hosted this fun event to kick off their 'Seasonal Warriors' book series. Kids were invited to participate in inspiring activities, meet health professionals, learn about food and nutrition, and event meet Yummie. With free snacks and refreshments available, everyone was in for a fun day out!
Yummy Times are proud to offer their book, Seasonal Warriors: Discover the Magic, which was officially released on 20 August 2015. The book is available for sale online at http://www.seasonalwarriors.com.au/. In more exciting news, the Chinese translated version of the book will be released soon! Keep an eye out for Yummy Times' updates.
Yummie Visits St Thomas' Primary School
Yummy Times made a special weekend visit to St Thomas Catholic Primary School last Saturday 24 October 2015. Students at the school were delighted to meet the adorable team mascot Yummie.
It was an amazing experience for all, with the event rounding out with a stage performance of Yummy Time's newest song, 'Be SEEDsational, It's Your Time'. Yummy Times participated as part of the school's Art & Craft Show, and were there to share the educational message of promoting balanced diets and lifestyles to students.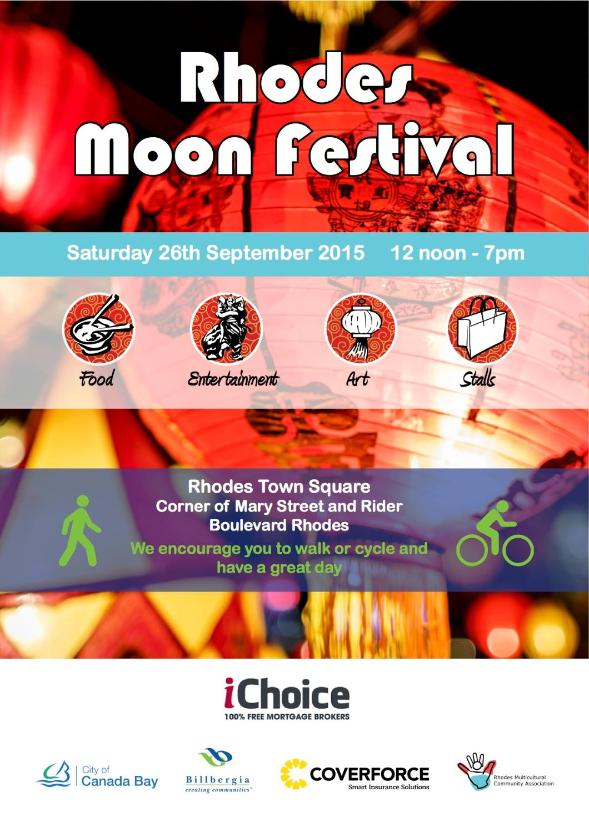 Rhodes Moon Festival
Yummy Times Group is proud to join City of Canada Bay - Sustainability stall at the Rhodes Moon Festival today. Yummie was presenting a copy of the Be SEEDsational: Discover the Magic book.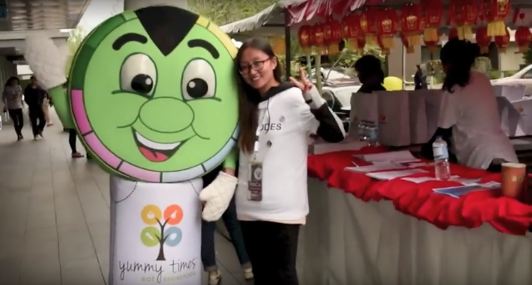 Children's hospital at Westmead
Yummy Times Group is a proud sponsor of the Children's Hospital at Westmead. Yummie visited the Children's Hospital to celebrate the launch of 'Be SEEDsational: Discover the Magic' and help to brighten the days of sick children. During this event, a percentage of all proceeds from book sales were donated back to the hospital.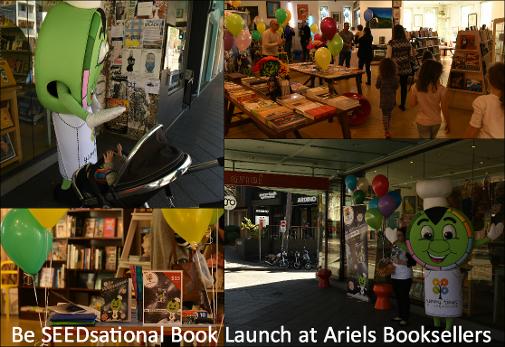 Ariel Booksellers
Yummie joined his friends at Ariel Booksellers to celebrate the release of 'Be SEEDsational: Discover the Magic'. Thank you to everyone who came along and bought a copy of the book.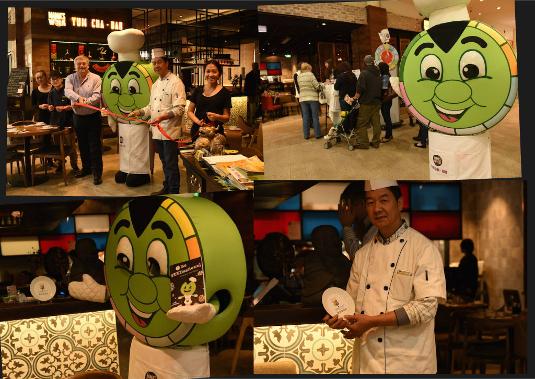 Mama's Wok Yum Cha & Bar Grand Opening
Yummie was proud to support Mama's Wok Yum Cha & Bar at their Official Grand Opening in Macarthur Square Shopping Centre.
The Yummy Times Wheel of Yummy Fortune was a great success. Congratulations to all the lucky prize winners!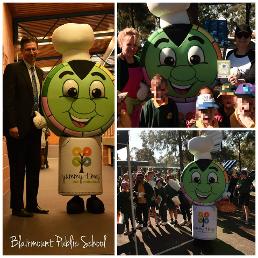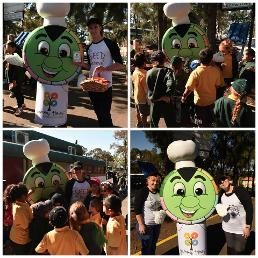 Blairmount Public School
Yummie visited Kathy's Kitchen and the SEEDsational kids at Blairmount Public School! What a great day with kids and parents!
The Be SEEDsational campaign aims to teach kids to look after our planet, and eat and live seasonably.
the be seedsational campaign support communities, charities and businesses with a number of fun and exciting events.
Look out for be seedsational when you're out and about!
Seasonal Warriors™ as a part of the Be SEEDsational
™ Campaign
© Good Business Sense & Yummy Times Group 2015-2022. All rights reserved.